Zachary Taylor Presidential Dollars For Sale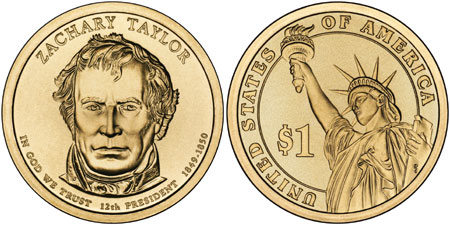 The release date for Zachary Taylor Dollar will be November 19, 2009. This will be the twelfth coin of the Presidential Dollar program. Proof versions of the coin have also been released in several sets.
The coin's obverse features a portrait of President Taylor and the reverse of the coin features the Statue of Liberty design used on all Presidential Dollars.
Below you find a selection of Zachary Taylor Presidential Dollars for sale. This includes Uncirculated, Mint State, and Proof coins. Some have been graded and encapsulated by third party grading services PCGS or NGC.
| | | | | | |
| --- | --- | --- | --- | --- | --- |
| | | | - | $24.95 | 8h 50m |
| | | | - | $79.95 | 9h 57m |
| | | | - | $99.99 | 12h 25m |
| | | | - | $20.00 | 12h 32m |
| | | | - | $79.00 | 12h 36m |
| | | | - | $15.00 | 15h 17m |
| | | | - | $10.00 | 15h 31m |
| | | | - | $15.00 | 15h 46m |
| | | | - | $19.98 | 18h 24m |
| | | | - | $29.00 | 20h 32m |
| | | | - | $39.95 | 1d 2m |
| | | | - | $14.36 | 1d 37m |
| | | | - | $16.52 | 1d 37m |
| | | | - | $14.36 | 1d 37m |
| | | | - | $16.52 | 1d 37m |
| | | | - | $14.36 | 1d 37m |