Presidential Dollar Rolls For Sale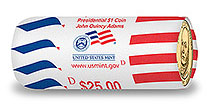 A popular way of collecting Presidential Dollar series is by the roll. Collectors can collect Mint wrapped or Original Bank Wrapped 25-coin rolls of the dollar coins.
Rolls can be obtained from banks and other financial institutions at face value. They can also be purchased from the US Mint through the Bags & Rolls program or the Direct Ship program. BU Rolls can also be obtained for a small premium on the secondary market.
Below you find a selection of Presidential Dollar Rolls for sale. This includes US Mint wrapped and Original Bank Wrapped Rolls.
| | | | | | |
| --- | --- | --- | --- | --- | --- |
| | | | - | $100.00 | 53m |
| | | | - | $31.99 | 1h 15m |
| | | | - | $52.00 | 2h 6m |
| | | | - | $72.95 | 5h 3m |
| | | | - | $35.00 | 9h 22m |
| | | | - | $32.95 | 9h 35m |
| | | | - | $72.95 | 9h 38m |
| | | | - | $72.95 | 9h 40m |
| | | | - | $72.95 | 9h 47m |
| | | | - | $35.99 | 9h 49m |
| | | | - | $79.95 | 9h 57m |
| | | | - | $72.95 | 9h 59m |
| | | | - | $39.95 | 10h 58m |
| | | | - | $39.95 | 11h 2m |
| | | | - | $89.00 | 11h 9m |
| | | | - | $63.95 | 12h 2m |