Martin Van Buren Presidential Dollars For Sale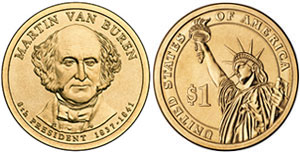 The release date for Martin Van Buren Dollar was December 5, 2008. This was the eighth coin of the Presidential Dollar program. Proof versions of the coin have also been released in several sets.
The coin's obverse features a portrait of President Van Buren and the reverse of the coin features the Statue of Liberty design used on all Presidential Dollars.
Below you find a selection of Martin Van Buren Presidential Dollars for sale. This includes Uncirculated, Mint State, and Proof coins. Some have been graded and encapsulated by third party grading services PCGS or NGC.
-
$79.95
5h 9m
-
$16.00
6h 13m
-
$14.99
7h 45m
-

$39.95
$51.95
7h 50m
-

$20.00
$26.00
10h 43m
-
$25.00
11h 47m
-
$43.00
12h 46m
-
$249.00
17h 27m
-
$159.00
17h 36m
-
$159.00
17h 38m
-
$191.00
17h 40m
-

$31.99
$41.59
18h 32m
-
$15.99
1d 1h 35m
-
$19.99
1d 4h 39m
-
$19.99
1d 7h 6m
-
$38.00
1d 7h 27m
Martin Van Buren Quotes
"All the lessons of history and experience must be lost upon us if we are content to trust alone to the peculiar advantages we happen to possess."
"As to the presidency, the two happiest days of my life were those of my entrance upon the office and my surrender of it."
-Martin Van Buren
8th President
Born:
December 5, 1782, Kinderhook, NY
Spouse:
No spouse while in office
Died:
July 24, 1862, Kinderhook, NY