James Monroe Presidential Dollars For Sale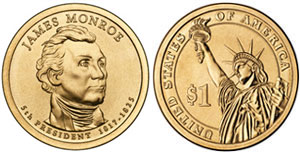 The release date for James Monroe Dollar was February 14, 2008. This was the fifth coin of the Presidential Dollar program. The Philadelphia mint produced 64,260,000 coins. The Denver mint produced 60,230,000 coins.
The coin's obverse features a portrait of President Monroe and the reverse features the Statue of Liberty design used on all Presidential Dollars.
Below you find a selection of James Monroe Presidential Dollars for sale. This includes Uncirculated, Mint State, and Proof coins. Some have been graded and encapsulated by third party grading services PCGS or NGC.
-
$72.95
1h
-
$18.95
2h 20m
-
$15.99
4h 57m
-
$154.00
5h 10m
-
$73.95
5h 57m
-
$32.00
7h 13m
-
$19.98
8h 41m
-
$11.00
9h 1m
-
$11.00
9h 5m
-
$29.00
11h 46m
-

$86.99
$129.99
12h 37m
-
$50.00
12h 45m
-
$18.99
13h 9m
-
$18.99
13h 13m
-
$109.95
15h 43m
-
$16.95
19h
James Monroe Quotes
"National honor is the national property of the highest value. "
"If we look to the history of other nations, ancient or modern, we find no example of a growth so rapid, so gigantic, of a people so prosperous and happy."
-James Monroe
5th President
Born:
April 28, 1758, Westmoreland County, VA
Spouse:
Elizabeth Monroe
Died:
July 4, 1831, New York, NY