James Madison Presidential Dollars For Sale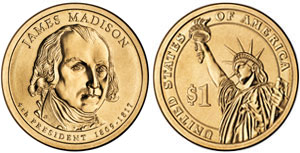 The release date for James Madison Dollar was November 15, 2007. This was the fourth coin of the Presidential Dollar program. The Philadelphia mint produced 84,560,000 coins. The Denver mint produced 87,780,000 coins.
The coin's obverse features a portrait of the president and the reverse features a rendition of the Statue of Liberty. The obverse designer was Joel Iskowitz and the sculptor was Don Everhart. The reverse designer/sculptor was Don Everhart.
Below you find a selection of James Madison Presidential Dollars for sale. This includes Uncirculated, Mint State, and Proof coins. Some have been graded and encapsulated by third party grading services PCGS or NGC.
-
$74.47
6h 16m
-
$39.99
11h 17m
-
$14.98
13h 56m
-
$18.75
16h 12m
-
$54.29
16h 12m
-
$15.99
16h 41m
-

$15.49
$20.14
18h 27m
-
$40.33
19h 5m
-
$40.33
19h 5m
-
$19.95
19h 40m
-
$24.75
20h 5m
-
$12.00
20h 21m
-
$36.95
1d 3h 50m
-
$29.99
1d 4h 55m
-
$22.93
1d 8h 33m
-
$14.93
1d 8h 33m
James Madison Quotes
"The government we mean to erect is intended to last for ages."
"Perhaps it is a universal truth that the loss of liberty at home is to be charged against provisions against danger, real or pretended from abroad."
-James Madison
4th President
Born:
March 16, 1751, Port Conway, King George, VA
Spouse:
Dolley Madison
Died:
June 28, 1836, Montpelier, VA