James Garfield Presidential Dollars For Sale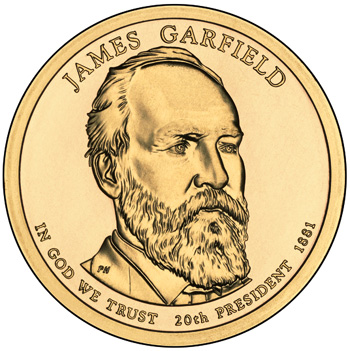 The James Garfield Presidential Dollar will be the final release of the series for the year, and the twentieth release overall. The coins have been issued within several numismatic products and will be officially issued for circulation from November 17, 2011.
The obverse portrait of the former President was designed by Phebe Hemphill. The reverse image of the Statue of Liberty was designed by Don Everhart.
Below is a selection of James Garfield Presidential Dollars available for sale. This includes high grade individual coins, rolls, or complete sets.
| | | | | | |
| --- | --- | --- | --- | --- | --- |
| | | | - | $20.00 | 12h 32m |
| | | | - | $134.99 | 12h 33m |
| | | | - | $65.00 | 12h 54m |
| | | | - | $12.00 | 12h 59m |
| | | | - | $42.00 | 13h 58m |
| | | | - | $10.00 | 15h 30m |
| | | | - | $89.00 | 1d 3h 39m |
| | | | - | $14.95 | 1d 14h 28m |
| | | | - | $17.96 | 1d 15h 36m |
| | | | - | $15.00 | 1d 19h 11m |
| | | | - | $110.00 | 1d 21h 16m |
| | | | - | $36.99 | 1d 21h 20m |
| | | | - | $64.08 | 1d 22h 49m |
| | | | - | $57.56 | 1d 22h 50m |
| | | | - | $64.76 | 1d 22h 51m |
| | | | - | $16.25 | 3d 1h |