George Washington Presidential Dollars For Sale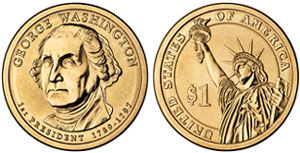 The release date for George Washington Dollar was February 15, 2007. This was the first coin of the Presidential Dollar program. The Philadelphia mint produced 176,680,000 coins. The Denver mint produced 163,680,000 coins.
The coin's obverse features a portrait of the president and the reverse features the Statue of Liberty design used on all Presidential Dollars. The obverse designer/sculptor was Joseph Menna. The reverse designer/sculptor was Don Everhart.
Below you find a selection of George Washington Presidential Dollars for sale. This includes Uncirculated, Mint State, and Proof coins. Some have been graded and encapsulated by third party grading services PCGS or NGC.
-
$50.00
40m
-
$72.95
43m
-
$70.00
58m
-

$149.95
$195.00
1h 31m
-
$12.00
3h 11m
-
$51.00
3h 17m
-
$19.99
4h 10m
-
$19.95
5h 1m
-
$154.00
5h 9m
-
$21.00
7h 12m
-
$21.00
7h 12m
-
$44.00
7h 12m
-
$50.00
7h 12m
-
$31.99
7h 58m
-
$19.99
8h 2m
-
$210.00
8h 36m
George Washington Quotes
"When one side only of a story is heard and often repeated, the human mind becomes impressed with it insensibly."
"I hold the maxim no less applicable to public than to private affairs, that honesty is always the best policy."
-George Washington
1st President
Born:
February 22, 1732, Westmoreland County, VA
Spouse:
Martha Washington
Died:
December 14, 1799, Mount Vernon, VA