Abraham Lincoln Presidential Dollars For Sale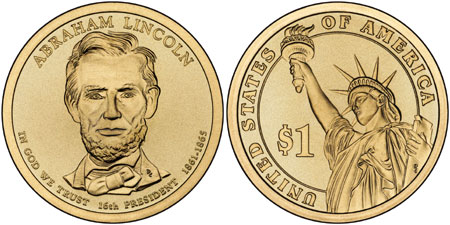 The release date for Abraham Lincoln Dollar was November 18, 2010. The date was accompanied by an official launch ceremony and the release of numismatic rolls of the coins. This represented the sixteenth coin of the Presidential Dollar program and the last release for the year.
The coin's obverse features a portrait of President Lincoln and the reverse of the coin features the Statue of Liberty design used on all Presidential Dollars.
Below you find a selection of Abraham Lincoln Presidential Dollars for sale. This includes some coins that have been have been graded and encapsulated by third party grading services PCGS or NGC.
| | | | | | |
| --- | --- | --- | --- | --- | --- |
| | | | - | $12.00 | 12h 12m |
| | | | - | $350.00 | 12h 29m |
| | | | - | $52.00 | 12h 32m |
| | | | - | $16.00 | 16h 46m |
| | | | - | $19.99 | 19h 9m |
| | | | - | $15.00 | 19h 39m |
| | | | - | $37.00 | 20h 47m |
| | | | - | $26.24 | 22h 51m |
| | | | - | $24.74 | 22h 53m |
| | | | - | $234.00 | 1d 4m |
| | | | - | $25.00 | 1d 2h 20m |
| | | | - | $46.95 | 1d 3h 18m |
| | | | - | $79.99 | 1d 12h 16m |
| | | | - | $10.76 | 1d 15h 37m |
| | | | - | $19.00 | 1d 15h 38m |
| | | | - | $17.96 | 1d 15h 38m |