Presidential Dollars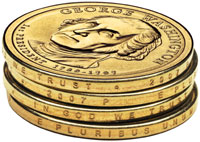 A new series of circulating dollar coins was launched in 2007 to honor the former Presidents of the United States. Each year, four different coins are released with obverse designs featuring a likeness of the presidents. The reverse design features a depiction of the Statue of Liberty that will be used throughout the series.
The Presidential Dollars incorporate special edge lettering. This convention was used to allow more space on the coin for larger and dramatic artwork. The lettering originally included the date, mint mark, and motto "E Pluribus Unum." Prior to 2009, the motto "In God We Trust" also appeared on the edge, but was later moved to the obverse.
The edge lettering has produced a number of unique errors. This is the result of the two step process needed to produce the coins. Coins are fed into a machine which strikes the obverse and reverse in the first step. The struck coins are then fed into an edge lettering machine in the second step. Potential errors include missing edge lettering, doubled edge lettering, or lettered blank planchets.
For 2007, the Presidents honored on the series included George Washington, John Adams, Thomas Jefferson, and James Madison. The latest annual releases issued for 2011 feature Andrew Johnson, Ulysses S. Grant, Rutherford B. Hayes, and Andrew Garfield.
On this site you will find a selection of Presidential Dollars for sale. This includes all presidents issued from 2007 to present. Available products may include individual coins, 25-coin rolls, or high grade coins certified by leading third party grading services PCGS or NGC.